Need advice?
Can't find the product you're looking for or need advice? Call us on +31242030026. We are more than happy to help you!
Why Lighthouse?
Worldwide discreet shipping
Ordered before 1pm, same day processed*
Pay with creditcard, and local methods
Lowest price guaranteed
Earn Sess Points Rewards
* GMT - Greenwich Mean Time
Specifications
Size (h x w x d): 191 x 174 x 88 cm
space for 24 x 6,5 ltr pots, 21 x 11 ltr pots or 5 x rock wool slab 1,3mtr.
Power: 800W
Fan1: G-Tools 125 2 speed fan - 230/360M3 per hour, including silencer.
Fan2: G-Tools 420 m3 per hour fan with temperature setting and speed controller,including silencer.
Filter: 2 x Prima Klima K2601 360m3
Ballast: 2 x Lucilux 400 Watt electronic ballast
Lamp: 2 x 400W Sunmaster Dual Spectrum with Adjust-A-Wings reflector, large model, inc. heat spreaders.
Timer: G-Tools timer box including relay and clock.
Bonus: Wheels
Warranty: 1 full year on all technical components
Details
Premium grow cabinet: sturdy and productive
Grow cabinet 800 Wing, for the extremely demanding home grower. Growing your own plants and herbs at home was never that easy. The G-kit 800 Wing is a high quality grow box. We promise years of safe and productive growing. The cabinet is equiped with high end components.
[caption id="attachment_6157" align="aligncenter" width="300"]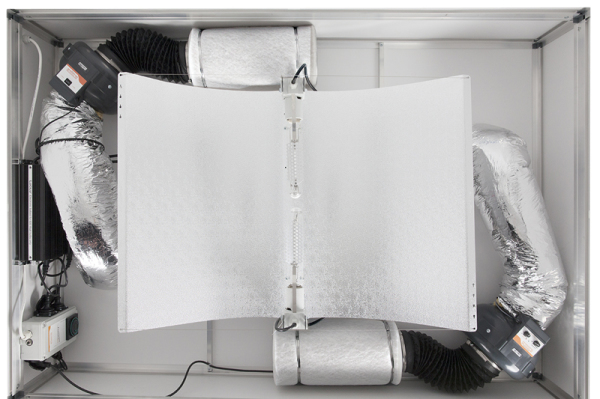 bottom view of the fully mounted G-kit 800 Wing.[/caption]
Full options grow cabinet 800 Wing
Lucilux 400 Watt electronic ballast 
Grow cabinet 800 Wing comes with two 400 Watt electronic Lucilux ballast.
Like all electronic ballasts, the Lucilux is light weight and produces little heat.
[caption id="attachment_6159" align="aligncenter" width="300"]
The 2 Lucilux electronic ballasts and the G-tools timerbox. The timerbox automaticly switches on and off the lights safely at set times.[/caption]
Adjust a Wings
G-Kit 800 Wing with original large Adjust-A-Wings reflector. The original Adjust a wings Avenger reflector spreads the light evenly over the cabinet's 1,5 m2 grow surface. Form and material of the reflector make it possible to light larger surfaces without any loss of efficiency. Two supplied "heat spreaders" which can be clicked directly under the lamps allow you to hang the reflector as close as 20 cm above the canopy to further enlarge the efficiency of the lamp. Save on your energy spendings and get the most out of your light.
Super yields guaranteed.
[caption id="attachment_6161" align="aligncenter" width="300"]
The original Adjust a Wing Avenger large model reflector. Including two lamp holders and two heat spreaders.[/caption]
G-Tools 125 ventilators
The 1200 Wing cabinet has two build in 125 mm tube ventilators. A G-tools 125 2 speed fan and a G-tools 125 fan with thermostat which will run faster as the cabinet gets warmer. Both are connected to PK carbon filter that filter the air before it's blown out odorless through the ceiling of the cabinet.The cabinet doesn't need to be connected to any ducting. The PK K2601 carbon filters have a life expectancy of 1 year and are easy to replace.
[caption id="attachment_6163" align="aligncenter" width="300"]
One of the two G-tools fans has a build in temperature dependent fan speed controller.[/caption]
Fresh air is drawn in through 8 light tight G-tools air-inlets.
[caption id="attachment_6165" align="aligncenter" width="300"]
One of the eight lighttight G-tools air inlets.[/caption]
Soil or hydroponics
This Grow cabinet 800 Wing has a solution for any desire; whether you want to grow on soil in pots or hydroponicly. In our web shop you will find different irrigation systems available for all models grow cabinets. Very useful when you're away from home for a longer period of time or when you want to work with a hydroponic system. But of course you can also just place pots with soil on the water resistant bottom and water your plants by hand. Freedom of choice.
Fits in any interior
The grow cabinet 800 Wing can be build up and dismantled within an hour. The inconspicuous design as well as the silencer and the Prima Klima odor filter gurantee careless use in any place. The body of the cabinet is an indestructable construction of aluminium profiles, plastic insert connectors and 8 mm PVC panels.
All Wing cabinets are equiped with wheels.
Manual
[wpdm_file id=60 title="true" ]
Pictures
http://youtu.be/Aqigx0pFWjY
1110.1173
https://www.lighthouseseeds.com/usa/grow-cabinet-g-kit-800-wing-2-m2.html